RL-SHED
The Weiss Running Loss (RL) Sealed Housing for Evaporative Determination (SHED) Chamber is used to determine the emission of fuel evaporation during driving.
Additional customisation is available for the RL SHED dependent upon user requirements.
The RL SHED background emission is less than 15mg HC within 4h in accordance with EPA§86.117-96a.
Product Features
Temperature range from +15°C to +45°C
Chamber capacity to suit application
Temperature fluctuation with time of ±1K
Volume compensation with Tedlar® bag or moveable ceiling
Homogenous conditioning of the test space
Driver instructor unit with ceiling mounted monitor
Dynamometer interface
Manufactured in Germany
User Benefits
In accordance with American Environmental Protection Authorities (EPA), CARB , EU and ATEX regulations
Trusted by leading automotive manufacturers and suppliers
Precision of test results
Integrated with any manufacturer of dynamometer
Vapour tight, corrosion and impact-resistant SHED chamber interior and exterior
High quality and sturdy design ensures reliability and durability
Easy operation and maintenance
Certified in accordance to DIN EN SO 9001
Safety tested with CE certification
Areas of Application
Videos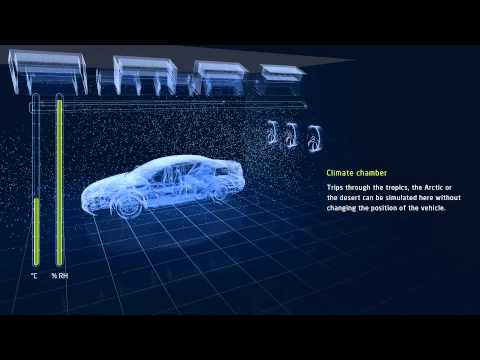 Downloads
Options
SHED automation system including storing of test runs, automatic test run and set point pre-selection.
Additional observation window in side wall with exterior illumination
Personnel door
Purge air fan
Separate valve for purge air inlet
Vehicle access gate, overhead door type
Extension of temperature range to +80°C (no extension of volume compensation)
Door sealing with FKM instead of SBR, in order to reduce the background emission down to approx. 7mg HC within 4h according to EPA §86.117-96a.
Additional ports
Observation windows
Refuelling port for ORVR testing
Potential-free contact protection measure
Calibration of specific temperature valvues