Soak Room
The Weiss Soak Room is a drive-in temperature and humidity-controlled environmental room designed for testing vehicles with an empty fuel tank and full or half buck bodies in white. The room can also be used for cold start tesing and the evaluation of the affects of UV lighting.
The rooms are customised to suit user requirements, with a number of available features dependent upon usage and location.
Product Features
Choice of temperature range from -40°C/-60°C to +130°C
Climatic range from +10°C to +90°C
Humidity range from 10%RH to 95%RH
Choice of access port size and number
Choice of air-cooled or water-cooled refrigeration unit
Choice of local or remote refrigeration plant
LCD colour touch panel
RJ45 Ethernet interface
Heated, multi-glazed observation window positioned to suit user requirements
Choice of level or raised vehicle access with removal ramps
Personnel door with heated, multi-glazed observation window
Vapour tight, corrosion and impact-resistant room interior and exterior
Manufactured in Germany
User Benefits
In accordance with EMC regulations for emissions and immunity
Trusted by leading automotive manufacturers and suppliers
Precise test results
Environmentally-friendly refrigerants
Replaced components are recycled or environmentally-friendly disposed
High quality and sturdy design ensures reliability and durability
Easy operation and maintenance
Safety tested with CE certification
Areas of Application
Videos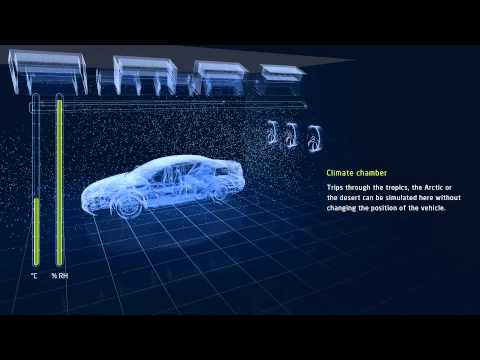 Options
S!MPATI or Contour programming, analysis and reporting software for connection to a PC
Independent over and under operator set temperature alarms
Additional heated, multi-glaze window in test space
Infrared or UV lighting
Integration with other test equipment e.g. robots
Additional options are available including customised interior and exterior dimensions and performance. Please contact Weiss Technik UK for further information.